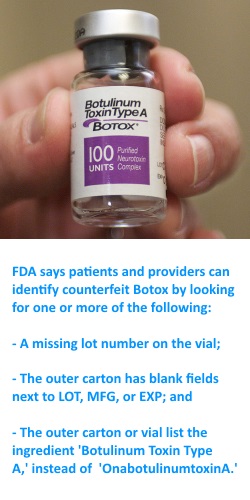 The August 4 sentencing of two Canadians for selling counterfeit Botox, has followed an April warning this year by the FDA that counterfeit versions of the medicines were turning up in clinics and doctors' offices in the US. Very similar counterfeits have been found simultaneously in Asia.
Botox – made by Allergan – is used to smooth wrinkles, against chronic migraine headaches, and in other indications including cervical dystonia.
Incidents of counterfeit Botox have arisen periodically for several years. The FDA warned about counterfeits as recently as April of this year, although there have been several incidents over the last few ears.
Allergan (recently acquired by global pharma giant Actavis), is said to have stepped up its anti-counterfeiting packaging technology in response to the threat.
But Botox is different from other drugs in one huge way: though proven entirely safe as made and distributed by Allergan, the active ingredient in Botox, known as botulinum neurotoxin (BoNT) is the deadliest substance in the world.
A single molecule can kill a nerve cell; one gram, if ingested, can kill 14,000 people. Some security experts have claimed that the substance could be weaponised by a person with a microbiology background within one month.
No report has suggested that the current sightings of counterfeit Botox are in any way connected with terrorists or other bad actors. But any evidence that illicit labs exist which are able to manufacture the substance would be a de facto security threat. Also the wide availability of medicines on the Internet is changing the nature of the threat very quickly.
Botox has been commercially available in the US since 2002, with blockbuster sales. Some counterfeits have been complete fakes – with no BoNT ingredient at all. But many of the fakes – about 80 per cent according to some experts – contain an amount of the toxin, like those purveyed by the two jailed Canadians this month.
In the case, which was adjudicated in St. Louis, Kamaldeep Sandhu and Navdeep Sandhu, of Vancouver, British Columbia, obtained Botox from Turkey and then shipped it to doctors in Missouri and elsewhere at low cost, using the website onlinebotox.com, their indictment states.
The Asian fakes were reported in Jakarta, Indonesia and Bangkok, Thailand, by The Peterson Group, a not-for-profit anti-counterfeiting organization.
Only seven countries in the world are licensed to produce botulinum neurotoxin medicinally for use by people. Many more produce a substance known as reagent-grade botulum toxin for use by pharmaceutical companies in vaccines and in other ways. The vast majority of counterfeits are of the consumer-oriented type.
The issue of national security has been a hot one since two seminal papers, a 2010 article in Scientific American By Ken Coleman and Raymond A. Zalinkskas, Fake Botox, Real Threat, and the 2005 Proceedings of the National Academy of Sciences, USA. Coleman and Zelinkskas warned sharply that the threat of weaponized BoNT was not being adequately addressed.
The two security analysts claim that they had identified at least 20 "entities" in China offering Botox-like products, but whose published addresses often did not exist.
They called for tracking Botox using a product "signature." Since that time, a range of other solutions has become available, such as barcode labelling, and DNA tagging. Allergan already uses some of them: today, a sealed Botox box has a double hologram protective seal. The bottle itself has a hologram on the label as well as a bar code and possibly other secret identifiers.
Allergan disputes that its drug could become a threat in the hands of terrorists. For one thing, the amount of BoNT in a vial is tiny. Assembling a lethal dose from commercial supplies would be difficult and very expensive, it asserts.
After publication of the Scientific American article, Caroline Van Hove, Allergan's then-vice president for corporate communications, countered in the Orange County, California Register:
"We collaborate closely with governments when a potential issue does arise. Regardless of counterfeiting being very uncommon, the article incorrectly states that Allergan is not doing enough to prevent a problem that does not exist and is implying that we need to be enforcing laws when that is not our role."
The Scientific American article, she said, creates "the mis-impression that this is a threat of national security." In fact, she added, "The incidence of counterfeiting is very rare and, when potential counterfeits are detected, actions are quickly taken to prevent mainstream penetration."
A spokesman for Allergan told SecuringIndustry.com that the company "takes many steps to ensure that the Botox … that is distributed to our customers for patient use is authentic, safe and effective."
"For instance, only authentic Botox vials have a sophisticated hologram image that says 'Allergan' [while] the box will also indicate if the product is packaged for use in US by a US license number that is located on a side panel. The US license number is also located on the product vial.
In 2014, Allergan sold about $2.2bn-worth of Botox.